Bayliss Mobility
Bayliss are a very friendly and helpful, family run business based in Bridlington, East Yorkshire. Whilst they have their own shop, they also have an online mobility shop too – www.baylissmobility.co.uk
Gary and Carol established Bayliss Mobility in 2001 and it has grown since then. Before establishing Bayliss Mobility, Gary worked for a company that looked after the NHS wheelchair contracts but, after a change of ownership, wasn't happy with the way things were going. So, between leaving work at 5PM on a Thursday afternoon and arriving home at 6.30PM he had decided to investigate going into business himself. That night Gary and Carol worked out some figures and Bayliss Mobility was born. Gary handed his notice in the next day… as they say, "the rest is history!"
Since starting Bayliss, Gary created three shops based in Driffield, Beverley and York. He then sold two, shut the third one and went online working from home selling the smaller disability aids. Bayliss has since grown, and Gary decided to open his biggest shop yet in Bridlington. Gary has been in the mobility aids business a whopping 30 years.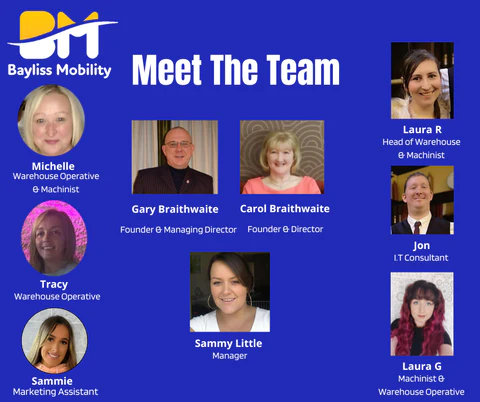 We've been in touch with Bayliss to learn more about them:
Where are Bayliss from? Where was the company born?
Our first shop was opened in 2001 in Driffiled, East Yorkshire. We just about had enough floor space for 2 scooters, a wheelchair, and a rollator.
What got you into the mobility aids business?
Total accident. I was on a government retail management course, and they couldn't find me a work experience placement so they started ringing random companies to see if they would take me on for a month. The first company to say yes was RGH Mobility who ran NHS wheelchair contracts. They eventually took me on full time and after a couple of years I became the contracts manager.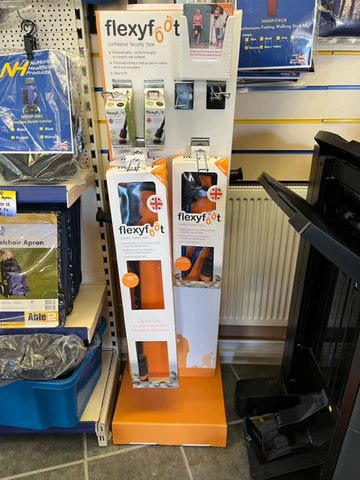 If you were a first-time customer, what product by Flexyfoot would you buy and why?
If I was a first-time customer, I would buy the pink crutches because they are not only practical, but unique, stylish, and eye-catching. They are also very popular!
Why would you buy from Flexyfoot instead of a competitor?
I would buy from Flexyfoot because they come in a range of different colours and styles so there are lots to choose from! The ferrule is unique and absorbs shock when touching the ground which minimises discomfort for the user which is reassuring.
How are you enjoying your partnership with Flexyfoot as a supplier?
It is good. Plenty of images to use, quick despatch of orders.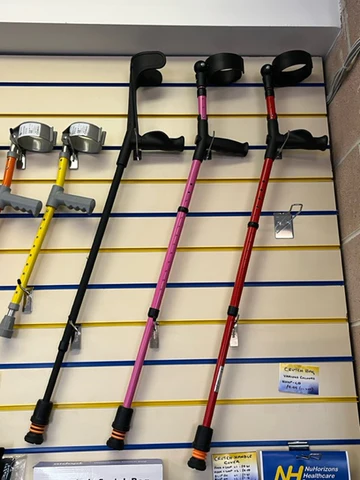 Should you wish to learn more about Bayliss Mobility, their website is www.baylissmobility.co.uk