Blue Sky Mobility are a mobility aids business that focuses on working closely with customers to make their everyday lives easier. They have two shops in Glasgow, both with great parking options and they have a strong focus on allowing the customers to see, touch and feel all new mobility products.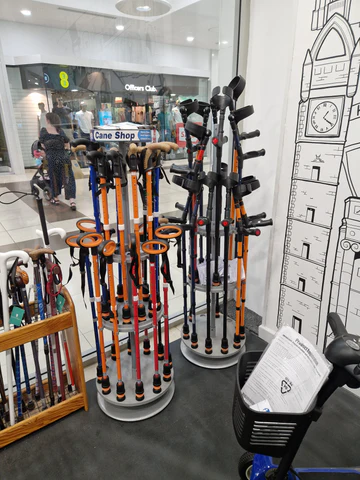 We spoke to Sean, who works alongside Silvia, Marie, Scott, Tom and Rachel, to learn more about Blue Sky Mobility:
Where are Blue Sky Mobility from? Where was the company born?
We are born and based in Glasgow, and we cover Greater Glasgow and the surrounding areas.
What got you into the mobility aids business?
I used to supply cushions to other mobility shops and while some shops provided a good service, others weren't so good. I knew I could offer a much better service, so I opened my first shop.
If you were a first-time customer, what product by Flexyfoot would you buy and why?
As a previous crutch user, I 100% recommend the ergonomic handle Flexyfoot crutch; not only does it fatigue your hand less but the constant grip on the whole surface from the Flexyfoot ferrule guarantees you a vastly superior and safer surface contact.
Why would you buy from Flexyfoot instead of a competitor?
Great innovative products, competitive pricing and easy to deal with.
How are you enjoying your partnership with Flexyfoot as a supplier?
Flexyfoot are now one of our favourite companies to deal with, great products, good stock levels, competitive pricing, clear bright packaging.
For more information about Blue Sky Mobility you can visit their website: www.blueskymobility.co.uk